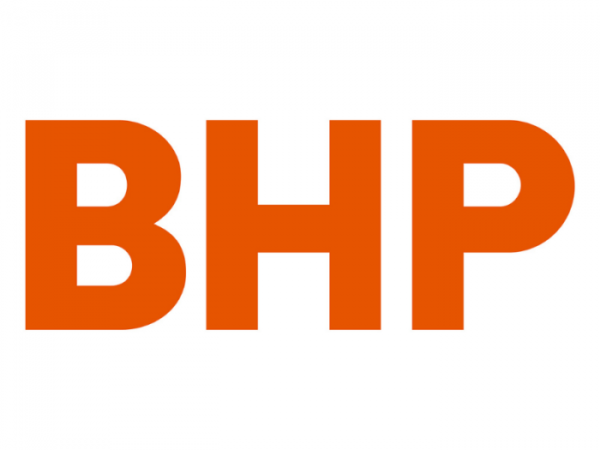 BHP is a world-leading resources company. We extract and process minerals, oil and gas, with more than 80,000 employees and contractors, primarily in Australia and the Americas. Our products are sold worldwide, with sales and marketing led through Singapore and Houston, United States. Our global headquarters are in Melbourne, Australia.
BHP employs about 45,000 people in Australia, and last financial year delivered more than $A33 billion in value to the national economy.
Our corporate purpose is to bring people and resources together to build a better world. We do this through our strategy: to have the best capabilities, best commodities and best assets, to create long-term value and high returns.
We are among the world's top producers of major commodities, including iron ore, metallurgical coal and copper. We also have substantial interests in oil, gas and energy coal.
BHP has committed to training and funding for 3,500 new Australian apprenticeship and training positions, and driving up to $450 million into supporting business opportunities in Australia's mining, equipment, technology and services (METS) sector.
CEO Mr Henry said the major skills and technology package would be good for the company and good for the country, as Australia focuses on its recovery from the COVID-19 pandemic.
The nearly $800 million package announced today comprises three key elements to be deployed over the next five years:
An increase of 2,500 apprenticeships and traineeships through the BHP FutureFit Academy, established earlier this year, with associated spend of $300 million.
A further 1,000 skills development opportunities across a range of sectors in regional areas. BHP will invest $30 million and work with the Australian Government to create advanced apprenticeships and short courses in areas of potential future workforce demand.
BHP will commit up to $450 million spend in contracts with Australian METS companies and further advancement of this sector. It will work directly and through its major technology providers to source more local products and services, and will invest in technology pilots and emerging businesses.
Mr Henry said: "As Australia looks to rebuild its economy and provide jobs for the future, the mining industry has an important role to play as Australia's biggest export earner employing hundreds of thousands of people."
"The mining and METS sector is a critical pillar of our economy, and it has never been more important than now.
"Providing apprenticeships, skills and training opportunities for Australians of all ages and all walks of life, particularly in our regional communities, is a commitment we can make to help Australia bounce back.
"These investments will create a pipeline of future talent in highly skilled roles, working in an industry that delivers essential products to the world and generates export dollars that keep the Australian economy strong."
BHP accelerated payments and reduced payment terms for small suppliers during the peak of the pandemic, hired an additional 1500 people on temporary contracts to support its Australian operations, created a $6 million fund to support labour hire companies and their employees, and established the $50 million Vital Resources Fund to support regional communities.
BHP FutureFit Academy
BHP will create 2,500 new apprenticeship and traineeship positions over the next five years through the BHP FutureFit Academy, established in March this year, with associated spend of $300 million. Places would be split between the Academy's campuses in Mackay in Queensland and Welshpool (Perth) in Western Australia.
Apprenticeships are on offer for heavy diesel fitters and mechanical fitters, with the program also offering a one-year Certificate II maintenance traineeship. Training is delivered in conjunction with CQ University and North Metropolitan TAFE (Perth). To date, more than 450 people have enrolled.
METS sector
The METS sector is an important part of the Australian economy and has a deep indirect multiplier effect over many parts of the nation's industrial base. It has also been identified as a sector that has significant potential for economic and employment growth subject to the right settings and support.
BHP has identified a package of $450 million that it could bring to bear to support METS sector growth in Australia, including new BHP contracts with Australian suppliers, working with its major technology providers to source more local products or work, and new investments in technology pilots and emerging businesses.
Regional skills development
BHP is in working with the Federal Department of Education Skills and Employment in relation to the Future of Work Partnership program.
This program will involve working with the tertiary sector to create opportunities for up to 1,000 people over the next five years in regional areas to receive skills and training across a range of industries to help support healthy, diverse local economies.
The training is designed to support access to employment and employees small to medium businesses, particularly those outside the mining sector who may have felt the impacts of COVID-19 more greatly.
For more information about careers with BHP : https://www.bhp.com/careers/get-to-know-our-business/operations-services/bhp-futurefit-academy/
View Website