National Skills Week was founded on four key areas of focus, notably to dispel the negative perceptions that surround vocational education and training (VET), highlight its diversity, the career pathways, and the success stories that emanate from VET, plus bring focus to emerging skills needs, and industry trends

2023 "What are you looking for?"
What are you looking for?  is the theme for National Skills Week 2023.  The focus is on matching what people are looking for in a career and their life to skills training through Vocational Education.  Also inviting employers and industry to join in the conversation with what they are looking for their team and the role that VET has in this space.
To showcase that whatever you are looking for- starting out, changing careers, upskilling- can be achieved through Vocational Education and Training (VET) .
So what are people looking for?  It could be flexibility, work life balance, travel, career pathways, career mobility, sustainable work, care for the planet, global responsibility, loyalty, stability, meaningful work, great team, money, progression, shared values, training and upskilling. Contribute to community, self directed work, recognition, responsibility, respect, achievement, exciting work, variety, faced paced, slow paced, working in a group, working by myself, working with new technology just to name a few!
The week will focus on the diverse range of careers achievable and how each persons ideas and dreams can incorporate and achieved thorough VET. This could be as an apprenticeship or traineeship, a skills set course, micro-credentials, diploma and advanced diploma qualification including pathways to University.
VET is not just for the traditional trades; it encompasses hundreds of different occupations, professions and industries including accounting, retail, hospitality, technology and the arts.
With Qualifications from pre apprenticeship through to Graduate certificates and Advanced diplomas – from Trades, Information technology, aviation, robotics, engineering, nursing, building, horticulture, land management, manufacturing, transport and logistics, business, management, sports and recreation, community services, health, retail, tourism, hospitality, and technology- VET is best placed to start, build or even retrain in a career. Let's explore the diversity and find what you are looking for!
Watch the introduction video to our Theme :
#Whatareyoulooking for? #letsexplore #VETforthefuture #skills #NSWk #pathwaytosuccess #realskillsforrealcareers
---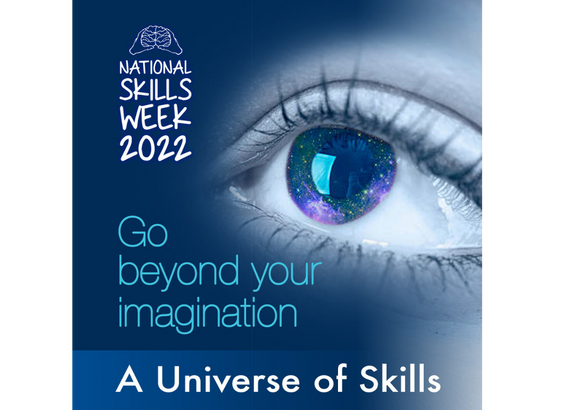 2022 Theme
In 2022. the theme for National Skills Week is A Universe of Skills: Go Beyond Your Imagination. We are asking people to re-imagine possibilities for careers, opportunities and emerging industries. Discover careers, pathways and opportunities in skills and Vocational Education that you may not know about, thought about or even imagined. Careers in emerging industries and areas, new technology, future skills and jobs. This years theme prompts people to question:
Did you ever imagine a career where…
Could you possibly imagine a job which…
What do you imagine for your future…
Check out our  https://vimeo.com/6886848352022 theme launch video