SkillsIQ is a national not-for-profit organisation supporting industry to develop standards to ensure the workforce is equipped with the right skills for jobs now and in the future. This report measures the gap between the required qualification across 400 occupations in the economy and the actual qualifications held by more than 10 million Australian workers, and quantifies the extent and cost of over-qualification in a number of the people-facing sectors which SkillsIQ supports.
This report sheds light on the mismatch of skills within the workforce including over-qualification, under-qualification or qualifications and skills that are possessed but are not related to, or required by, a job role.
Key points from the report are mentioned below, with the full report located HERE.
"Vocational education and training forms an integral piece of the Australian education system. The sector partners with industry and government to equip people, particularly younger people with workplace-specific skills and knowledge designed to meet current and future employment" – Skillsing Australia Foundation Report 2017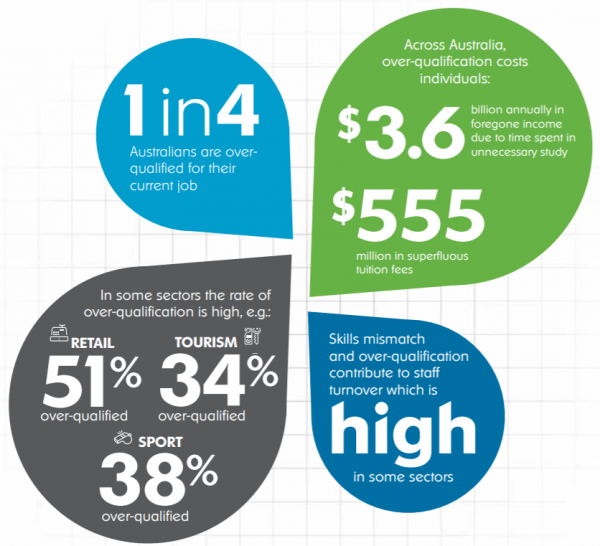 Young people need practical skills (including those which can be
gained through vocational training) in order to be 'skills-ready'
for work, and they need to ensure that they acquire a greater depth
of knowledge (including through degrees and advanced qualifications)
at the right time to support their career development, not always
as a ticket of entry into their first job.
Employers need 'skills-ready' workers with the right type of qualification for the job
Employer demand for higher qualifications is increasing
One in four workers are over-qualified
Within people-facing sectors, the potential for, and rate of, overqualification is higher
The cost of over-qualification for individuals likely exceeds $4 billion per year
Other impacts of over-qualification and skills mismatch for employers and employees such as lacking crucial practical skills causing employees to lose motivation and be less productive than others
Skills mismatch, whether due to over-qualification, underqualification or misaligned qualifications, is an issue that has implications for workers, employers, policy makers and education providers alike. This report's findings point to the need to recalibrate policy settings and employer and individual awareness and expectations so that people achieve 'the right qualification at the right time'. People need practical skills (including vocational training) to be 'skills-ready' for work.