Author: Cara Jenkin
One of the world's biggest crises today is tackling climate change and reducing emissions, but out of the bad news comes good things for those looking for a sustainable career.
The clean energy industry in Australia is going from strength to strength, with more than 100,000 new jobs said to be created by 2030 in one emerging energy source alone.
The Federal Government has set a target to reduce emissions that cause climate change by 43 per cent by 2030, which includes a target to source 82 per cent of the nation's energy needs from renewables.
A third of the nation's electricity already is generated by renewables. In South Australia in 2021, wind and solar powered the state entirely for 93 hours straight, setting a world record.
But Australia will not stop there. Over the next 30 years, new wind and solar farms, batteries, rooftop solar installations, and hydro projects will need to be built.
Also emerging as a clean energy source is hydrogen, with seven hydrogen hubs set to be developed in regional areas that is projected to create 130,000 new jobs by the end of this decade.
In 2019, the renewable energy industry employed more than 25,000 workers, and by 2025, it is expected to be at least 44,000.
Learn about the many different careers on offer in clean energy in this webinar
WHERE ARE THE JOBS IN CLEAN ENERGY?
Small-scale solar, such as solar panels on roofs, is one that is close to home for many people. In 2021 alone, there were 389,577 rooftop solar installations completed – the second year in a row that there was a record of new installations.
It means more than one in three households – or 3 million homes – are now powered by the sun, since the industry began in earnest in the late 2000s.
In more recent years, batteries have been part of a new home solar installation, or retrofitted in an upgrade, so that householders can use more of the electricity they generate themselves rather than exporting excess into the electricity grid.
But solar panels and batteries are not just for individual homes. They are also being constructed on a large scale, as solar farms and big community batteries, to provide power to thousands of homes at once.
Wind, however, is the nation's leading source of clean energy, with wind farms generating 11.7 per cent of the nation's total electricity in 2021.
At the end of 2021, 66 large-scale wind and solar projects were in development or under construction, accounting for 19,000 jobs.
Hydro schemes were the first major renewable energy projects ever built in Australia, and they play such an important role that they are being upgraded and expanded to generate more electricity.
Next on the horizon, aside from hydrogen, is offshore wind farms.
Public consultation on a new offshore wind farm in Bass Strait off Gippsland is now underway, while offshore wind farms also are proposed in the Pacific Ocean off the Hunter and Illawarra regions in NSW, the Southern Ocean off the Portland region in Victoria, the Indian Ocean off the Perth region in WA, and in Bass Strait closer to Northern Tasmania. Five other regions also are in scoping stages.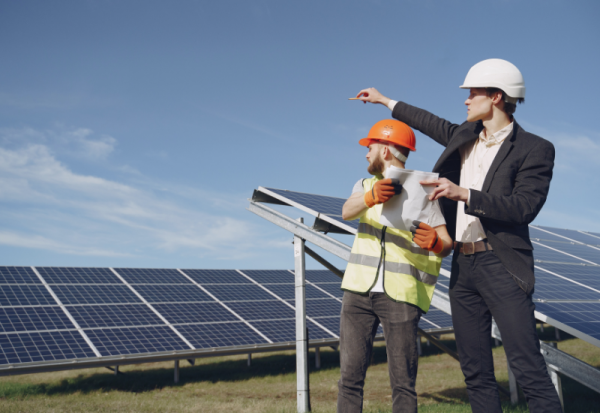 WHAT WORKERS DOES THE INDUSTRY NEED?
About half of the renewable energy workforce is made up of trades and technicians, machine operators and drivers, and labourers.
The other half of the workforce is made up of managers, design engineers and planners, finance, health and safety, sales and other professionals.
The clean energy industry is concerned about a shortage of workers, particularly engineers, electrical line workers, electricians, and skilled wind power technicians.
One in five renewable energy jobs are electricians or electrical trade assistants. Roofers for rooftop solar installations make up another five per cent. To get qualified, consider an electrical apprenticeship or Diploma of Electrical Engineering (electrician), Certificate III in Roof Tiling (roofer) or Certificate II in Sustainable Energy (trade assistant).
Four per cent of the workforce is drivers, such as those that haul wind farm turbines and blades from manufacturing hubs and ports.
Other significant roles include mechanical, construction and metal tradespeople who are qualified by completing an apprenticeship; earthmoving equipment and crane operators, who often require short courses; and construction and project managers, who are qualified by completing a Certificate IV or Diploma of Building and Construction or Project Management.
In offshore wind, it is estimated between 3000 and 8000 jobs will be created annually, in many occupations already employed in clean energy, such as engineers, environmental scientists, electricians and wind turbine technicians.
However, it also will produce opportunities for existing offshore oil and gas industry workers to pivot into, as many similar skills are required.
A Diploma of Renewable Energy Engineering can give pivoting workers the skills specific to the industry.
To help meet these skill needs across the clean energy sector, the Federal Government will fund 10,000 new energy apprentices.