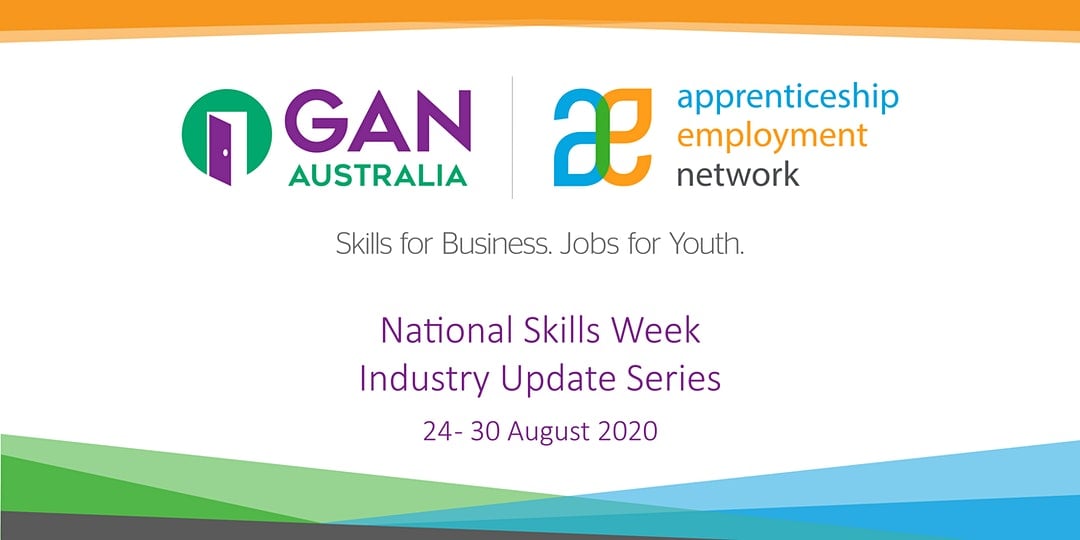 To celebrate National Skills Week 2020, the Apprenticeship Employment Network (AEN) will be hosting
a series of free video conference presentations and interactive workshops to provide VET updates to their network.
These will be held from Monday 24 August to Friday 28 August.
Speakers are leading in their industries and discussing a range of topics over the five days.
Register for free HERE.
Here is the brief schedule overview of the free series.
10.00am- 11.30am – AEN Victorian State Government Update
Carl Walsh, Manager
Apprenticeships and Traineeships
Engagement Participation & Inclusion Division – HESG
Department of Education and Training Victoria&
Simon Smith & Diana McGowan, VRQA 
1.00pm 2.00pm – AEN Industry Update
Gary Workman, Executive Director, Apprenticeship Employment Network 
10.00am- 11am – Australian Government Update
Linda White, Assistant Secretary
Workforce and Apprenticeships Industry Branch
Apprenticeships & Workforce Skills Division
Australian Govt Department of Education, Skills and Employment
Wednesday the 26th August 
10.00am- 11am – AATIS Workshop
Peta Skujins, Director, AATIS
Australian Apprenticeship Information Services
1.00pm 2.00pm – Youth Mental Health
Gina Chinnery, Orygen
10.00am- 11am – NCI Update
Grant Lovelock, Assistant Secretary & Tiffany Blight, Executive Director
National Careers Institute
Department of Education, Skills and Employment
1.00pm 2.00pm – IR / Awards Update
Janet Nicholson, Worksight
10.00am- 11am – The impacts of COVID-19 and a way forward
Prof John Buchanan & Dr Lisa Fowlkes
For more information please email: admin@aen.org.au