Heroes of Traditional Trades (HOTT) 2017
Australia ICOMOS in conjunction with National Skills Week, SkillsOne Television, the National Trust of South Australia and the ISS Institute are holding a digital photographic Heroes of Traditional Trades competition to record individuals involved with traditional trades, crafts or other practices. At a time when there is concern about the gradual loss of skills, celebrating those dedicated to traditional trades and crafts associated with the conservation of heritage places in Australia has never been more important.
Entrants are required to send a photograph or photographs of tradespeople or craftspeople in the act of carrying out their traditional trade or craft that leads to the conservation of a place of heritage significance in Australia, or with a finished product. The photograph should showcase the skill involved in in the trade. The judges are looking for eye-catching images which reflect the diversity of traditional trades relevant to heritage places in Australia. Photographs could feature a building trade, a landscape practice or a traditional activity associated with the social values of a place. Anything from roofing to flooring; from paddock fencing and dry stone walling to hedge-laying; or from traditional mining to the making of soft furnishings will be considered. The trades just have to be important to the heritage significance of the place or to best practice heritage conservation in Australia generally, whether it be conserving its built fabric or interpreting its heritage value.
Short listed entries will have the prestige of seeing their work put up on display and will receive a digital certificate. The winning photographer will be awarded $750.00. The subject/s in the winning entry also receive $750.00 (to be shared if there are multiple subjects in the photo). There are also awards for a photograph of an apprentice or trainee tradesperson or craftsperson taken by a photographer enrolled in a professional photographer training course ($500 for the photographer and $500 for the subject/s of the image). Highly commended awards may be considered by the judges.
Entries for the 2017 Heroes of Traditional Trades (HOTT) Photographic Competition have now closed. Winners and finalists will be contacted over the next week and announced during National Skills Week 2017.
Winning entry from 2015 HOTT competition, 'Atlas Wrought Artworks', Wendy McCaffley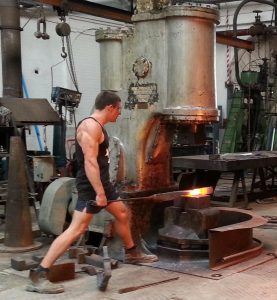 Short-listed entry from 2015 HOTT competition, 'Dry Stone-Walling, Kristin Munday